Need to Know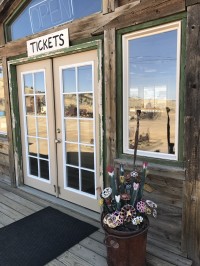 A great tour for all ages
Tour Length
Approximately 1 hour
Purchasing Tickets
Tickets are available in the Mollie Kathleen gift shop (Company Store).
Advanced reservations are only available for groups of 15 or more.
Physical Requirements
About a quarter mile of flat and level walking.

A short ride on an underground rail car.
You are on your feet for most of the tour.

Claustrophobia

The tour itself is not claustrophobic but, the descent in the shaft is very close for 2 minutes (each way).
"You can do it."
Do To Limited Space and Safety
Please leave the following items above ground.

Backpacks

Large items
Camera equipment

Large purses
Food-drink
Pets
Things To Bring Underground

Cameras
Jackets (50 degrees F , 10 degrees C). Jackets are recommended.
Restrooms
Please USE THE RESTROOM BEFORE THE TOUR IS ANNOUNCED, there are no restrooms underground!
ADA Accessibility
The Mollie Kathleen is an authentic 1890's gold mine and is not ADA accessible.

Items Not Allowed
Large oxygen tanks
Wheel chairs
Crutches-walkers

Service animals
About 10 minutes before your tour begins your ticket color will be announced and you will head to the staging area.

Hard hats will be provided.
(Underground temperature is 50 degrees Fahrenheit, 10 degrees Centigrade), Jackets are recommended.
Walking shoes recommended, but all shoes allowed.
The tour is conducted entirely underground.
REFUND POLICY
The Mollie Kathleen Gold Mine tour is limited in space, therefore, ticket purchases are final.
please make sure you are able to take the tour before purchasing tickets.
there are no refunds or transfers of tickets.